Author Archive for Lookout
The Lookout Newspaper – Pacific Navy News An award-winning weekly publication, the Lookout Newspaper is the main source of news for CFB Esquimalt's military members, veterans, civilian employees and their families. Weekly circulation is 4,500 a week with an additional 1,600+ online.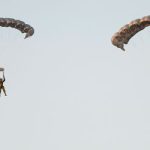 Canadian Soldiers along with their  US Army counterparts and the Polish Army, did a wings exchange jump from a CC-130J Hercules in Eastern Europe on August 21, 2014
Master Seaman Jose Clarke prepares HMCS Regina to conduct refuelling while at anchor in Male Harbour, Maldives on August 12, 2014.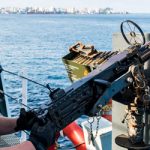 Leading Seaman Matthew Kessler provides security with a .50 cal machine gun before HMCS Regina enters Male Harbour, Maldives on August 12, 2014.
Firefighter Adam Glazier maintaining positive pressure attack equipment while teams sweep the building.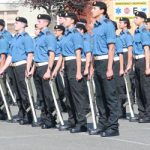 A new batch of Ravens wrapped up their five-week program with a formal graduation ceremony last week.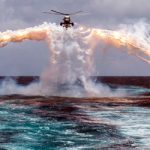 HMCS Regina's CH-124 Sea King helicopter deploys flares during a routine flight operation in the Indian Ocean on August 14.
A peek at what it's like to be an EOD tech
For novelist and military spouse Brenda Corey Dunne, her work isn't just a book on a shelf, it's a piece of her. A few weeks ago she released her second novel, "Dependent", which follows 45-year-old military spouse Ellen Michaels. When Michaels loses her husband in a training accident, she sets out on a journey of […]
Base firefighters assembled in Work Point two weeks ago to keep their much-needed emergency skills perfect. Using a smoke machine to mimic a smoke-filled residence in an empty house near Work Point, the crew tackled a simulated emergency. The technique exercised was a Positive Pressure Attack (PPA). A PPA is a firefighting technique in which […]
Thirty candidates from the Canadian Forces RAVEN Aboriginal Youth Employment Program stood proud and hearkened to reviewing officer Capt(N) Tim Gijzen's congratulatory words at their graduation ceremony held at the Work Point Parade Square last Thursday. The six-week course – five weeks of Primary Army Reserve Basic Military Qualification and a three-day Culture Camp on […]